Are you looking for a tool to assist you in improving your SEO? In this Sitechecker Pro review, I'll show you how to track Google ranks, optimize on-page SEO, and track backlinks using this tool.
What is Sitechecker?
Sitechecker is a cloud-based tool that lets you keep track of your website's metrics in real-time. You may evaluate websites built with a variety of website codes, such as Squarespace, Wix, and WordPress, and it will deliver an in-depth data analysis.
When you get your results, you'll be able to immediately discover what's causing mistakes on your website, what needs to be improved, and what needs to be fixed. Fixing these issues increases the likelihood that Google and other search engines will recognize your website as a whole and raise your article's ranking potential.
After your website is optimized and working smoothly, you can check your backlinks and see what keywords you're ranking for (using a Google Search Console and Google Analytics combination) to see what's going on.
Features
Sitechecker has a lot of functions as an SEO checker that you can make use of. This tool can help you with everything from upgrading your website to assessing someone else's. Here are a few of Sitechecker's most useful features.
Site Auditing Tool
The site auditing tool enables users to find all technical SEO concerns on a website. After discovering a problem, the program will attempt to correct the error and increase website traffic. This function is fantastic since it helps a website's overall health. Furthermore, this technology enables the user to enhance organic traffic and conversion rates from leads to customers.
This tool is ideal for businesses, SEO experts, and developers. This is since it detects errors on a website and resolves them without requiring too much work. Duplicate material, as well as faulty internal and external links, can be detected. And there's a lot more.
Rank Tracking Tool
If you've used SurferSEO before, you'll know precisely what this tool is for. This application examines your website's SEO and attempts to provide a report about your search engine rating. This tool will show you which parts of your website need to be improved.
This tool works by monitoring keywords. The bread and butter of search engine results are keywords. Your chances of ranking high in search engines will skyrocket if you use Sitechecker to develop the most-searched keywords relating to your specialty. Aside from that, Sitechecker will alert you if the popularity of some keywords has decreased or if the popularity of other keywords has grown in search engines.
SEO Chrome Extension
Another intriguing feature of Sitechecker is the chrome extension it provides. You only need to add it to Chrome and you'll be able to evaluate any website, whether it's your own or not. This extension evaluates a website's page quality and produces a report with recommendations for how to improve it.
All of the parameters for an on-page SEO analysis are in one place with this extension tool. Furthermore, assessing a website's SEO takes very little time. Finally, this SEO Chrome extension is included as a gratis with all price levels, making it accessible to everybody who uses Sitechecker.
Sitechecker Pricing
Sitechecker offers three price options: Basic, Startup, and Growing. The Basic plan, which costs $23.00 a month and is invoiced annually, is the most affordable. This plan is perfect for digital marketing newbies since it allows for up to three websites and 1,500 URLs per account. Per account, you may develop 150 keywords and 3000 backlinks.
The Startup plan is ideal for firms that are still developing their modest websites. It costs $39 per month, payable once a year. It allows you up to 5 websites, 5000 URLs, 500 keywords, and 5000 backlinks per account, which is more than the Basic Plan.
The last plan, the Growing Plan, is designed for major enterprises who want to earn from their websites. It's $79.00 per month, payable yearly. Per account, this plan allows for up to 10 websites, 50000 URLs, 1000 keywords, and 10,000 backlinks.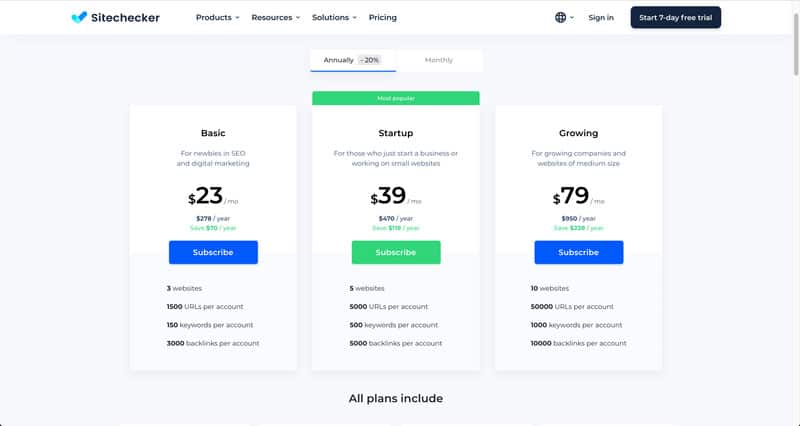 Sitechecker Final Verdict
Overall, Sitechecker is an excellent tool for those who find managing their websites tough. Working with Sitechecker does not need much knowledge. All you have to do now is launch the software and you're ready to go. Sitechecker is a simple tool that will perform wonders for you.